Taking a helicopter view of the life insurance sector, I can't help noticing that legislation, compliance and consolidation could be leading to indistinguishable life insurance products and brands. This trend reflects the trust issues stirred up by the findings of the Royal Commission, which have in turn provoked a 'defensive' response from financial services marketers.
Google 'life-insurance-Australian-underinsured' and you'll quickly find plenty of research and content from the industry explaining the issue; however, their response strategies seem to have switched focus to retention rather than growth, and to solving the underinsurance problem. A more effective response would be to increase the size of the insurance pool in order to reduce the cost of premiums, provide better cover for the customer and increase trust.
It's time to stand out from the crowd and tackle the real issues — by addressing the misconception that many claims aren't paid; replacing uncertainty with certainty; demonstrating how you add value; and encouraging customers to actively review and control their policies.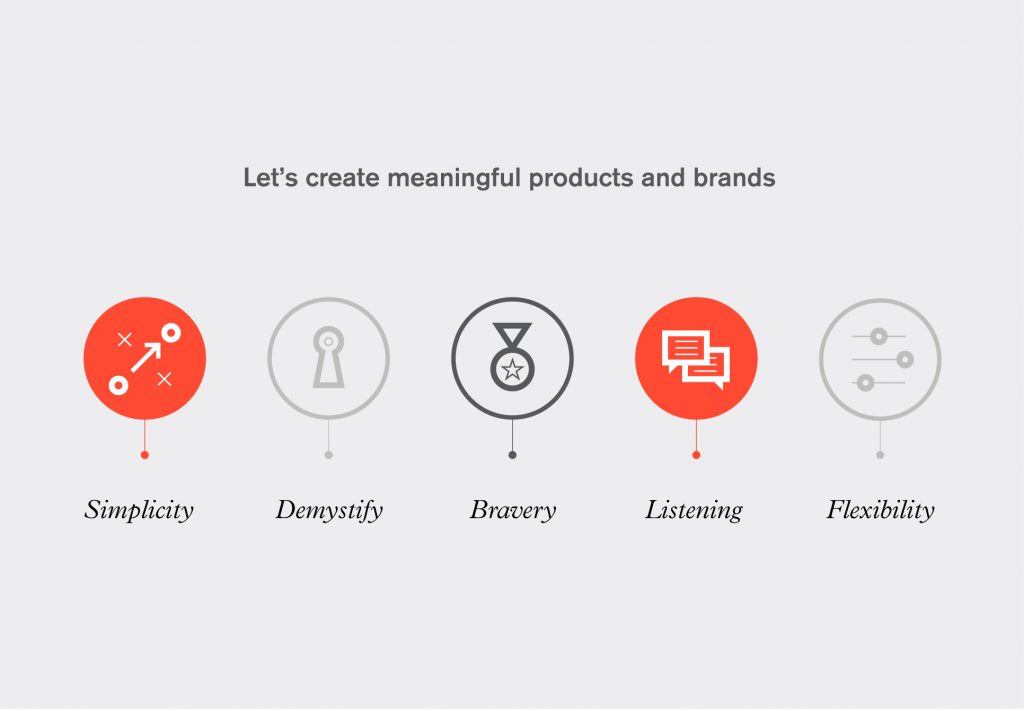 Let's create meaningful products and brands
• Make the complex simple — not just by using plain English and uncomplicated infographics, but by absorbing design deep into your organisation as service design, at a cultural level aligned with business objectives.
• Demystify not, over-simplify — balance a 'less is more' principle with the idea that guidance and transparency build trust; define how much content is too much content.
• Be courageous — use bold visual developments. The industry can't simply fall back on standard image libraries.
• End-user needs — invest in truthful and deeply segmented research, carefully watching, listening to and learning from customers, rather than relying on intermediaries, brokers or advisers who are limited in their ability to provide nuanced advice when comparing suites of differentiated products across a wide range of providers.
• Build flexibility and hyper-personalisation into products and communications — consider a future where a modular and adjustable product evolves to accommodate life stage, lifestyle and wellness changes among consumers.
Think about differentiation by design
Design can reflect the customer's point of view, crosscheck against the status quo, create insight and identify opportunities for differentiation.
While a future where businesses evolve out of legacy systems and adopt emerging technologies into their workflows is encouraging, it will take focused and innovative leadership to adapt, and a strong desire to be different to be effective.
---
https://www.realinsurance.com.au/life-insurance/insurance-matters/understanding-implications-of-underinsurance
https://www2.deloitte.com/global/en/pages/financial-services/articles/fintech-revolution-in-insurance.html